Northern Wisconsin County Has First Documented Case of CWD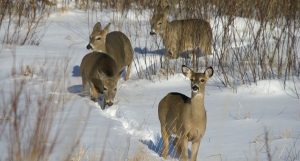 A new CWD discovery in Oneida County has ramifications for hunters and local businesses alike.
The Wisconsin Department of Natural Resources reported a wild deer suffering from chronic wasting disease in Oneida County. This is the county's first documented case of a CWD-positive deer.
The discovery took place in the town of Crescent, just 10 miles from a positive CWD tested deer found in Lincoln County this past January.
The finding automatically renews Oneida County's existing baiting and feeding ban for another three years. It also renews a two-year baiting and feeding ban in neighboring Langlade County.
The news worries some local businesses that participation in this year's deer hunting season will decline.
Kelly Ramker of Rhinelander's Farmers Feed Store saw her business adversely affected when the ban was first introduced. Sales of animal feed and deer corn dropped dramatically.
"Very simply put, it was very scary the first time they implemented the baiting ban," Ramker said. "However, in any business, you have to overcome and adapt."
Hunters and the public can help monitor deer
Oneida County Deer Advisory Committee Vice Chairman Roger Sabota supports the baiting and feeding ban. But, he too is fearful disease's impact.
"What hunters can do is really abide by the law and encourage others that they see to get involved. It's a sad situation," Sabota said. "It's bad, but we're going to get through it. If we get more people concerned with it, we get some people with professional backgrounds involved with it… A lot of our businesses are dependent on hunters."
The DNR intends to continue to closely monitor the health of deer in county. They'll continue to work with the CDAC to monitor deer in the area. They will also test for CWD in deer killed in auto-collisions, deer taken under agricultural damage permits and urban deer hunts.
The DNR encourages the public to report any deer that appear sickly.
The post Northern Wisconsin County Has First Documented Case of CWD appeared first on Wide Open Spaces.
The article was originally seen at http://www.wideopenspaces.com/northern-wisconsin-county-has-first-documented-case-of-cwd/
Originally posted 2018-05-04 13:17:02.