Dust, Sun and Singletrack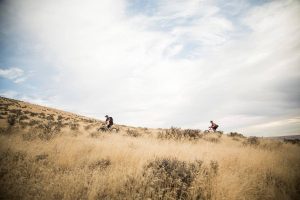 Far from overcast Seattle, east of the Columbia River, sits the community of Ephrata, Washington. And just outside the small town, twenty miles of singletrack at Beezley Hills Preserve beckon, making Ephrata an unexpected mountain biking destination in eastern Washington. The land was once used as pastureland for grazing horses by rancher Frank Beezley, the area's first settler. Now, sagebrush lines the trails and long grass rustles in the breeze, shivering violently whenever a bike flashes by. Swooping berms track along rolling hills and the vivid blue sky stretches overhead.
Many larger mountain bike destinations have hidden gems like Ephrata nearby, and they are worth seeking out. Thanks to a vibrant local cycling community, Beezley Hills hosts races like the Beezley Burn, which kicks off the region's mountain biking season and gets everyone stoked for the summer ahead. The eight-mile course offers rough, rocky terrain and just enough climbing to challenge any biker.
After a rainy Seattle winter, riders Lauren and Mark were more than ready to hit the arid trails on Salsa Timberjack NX1 27.5+ hardtails. The Timberjack is highly adaptable to many riding styles and cycling adventures including bikepacking; but this day it was going to be put through its singletrack paces. By the day's end no one wanted to stop riding, but the call of burgers and beverages was simply too strong.
Check out Beezley Hills for yourself, or find a local hidden gem through REI's Mountain Bike Project community.
Shop Salsa Bikes
The post Dust, Sun and Singletrack appeared first on REI Co-op Journal.
The article was originally seen at
Originally posted 2018-05-10 12:07:44.