Bow Review: Mission Hype DTX
Mission is all about creating bows that employ get-it-done technology and then backing that up with world-class support. Their rigs are very easy on your wallet, and you will be hard pressed to find a more versatile lineup anywhere. Mission is about growing the sport of archery.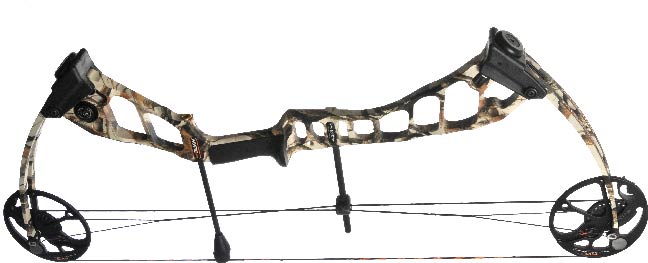 Mission's Hype DTX spans 31 inches between the axles, sports a 7-inch brace height and is advertised to reach IBO speeds of 305 fps. This rig is all about adjustability; draw length can be easily moved anywhere from 19-30 inches without a bow press, while draw weights from 15-70 pounds can be dialed in by simply turning the limb bolts. Parallel limbs, a Dead End String Stop and Harmonic Stabilizer Lite keep shock, vibration and noise to a minimum, while the molded composite grip offers a measure of warmth and comfort on those cold days afield.
Great Range
The Hype DTX has amazing adjustability in both draw length and draw weight. It is no simple feat to design and engineer a product with such a wide range and keep it all on-board without different cams, limbs, strings, etc. You could buy one of these for every member of your family, and you would all be ready to go hunting or target shooting in no time. I could test this bow for IBO specs and turn around and set it up for the neighbor's 8-year-old daughter, and it would perform well for her.
Mission's new Perimeter Weighted Focused Inertia Technology (F.I.T.) Cam houses a single module that produces all of the draw lengths from 19-30 inches without the use of a bow press. With the new cam, a weighted disc is inserted into the base metal at a strategic location. The disc moves in the opposite direction of the string and cables to cancel out their momentum and unused directional energy while adding inertia to the shot. The disc is advertised to also help reduce recoil and noise at the shot. System letoff is advertised at 80 percent.
Gordon Composites is Mission's material of choice in designing the DTX split limbs. Deep limb pockets and an extra-long limb bolt allow for draw weights to be adjusted from 15-70 pounds. Now, you will not get that full range at any single draw length. However, the draw weight logically follows the draw length. The longer the draw length setting, the higher the draw weight will go.
Keeping the Peace
Mission outfits the Hype DTX with several features and technologies intended to make the shooting experience more pleasurable and stealthy. Of course, they had to hit middle of the road on a couple things considering the shooter could be a grown man or a prepubescent halfling. The grip, for instance, is on the narrower side so that most anyone can handle it and expect repeatable performance. It is also made of a warmer composite material and wraps most of the way around the handle, leaving only the riser's front face exposed. They also stay away from high or low wrist positions and instead formed the grip to produce a neutral wrist position. Again, this will translate into a wider appeal.
Parallel positioning of the limbs at full draw takes advantage of the inherent reduced shock, vibration and noise benefits of such a configuration, while the Dead End String Stop quickly reduces string oscillation and the Harmonic Stabilizer Lite put the kibosh on vibration running through the riser.
Easy Does It
As you will notice from the included draw curve, the F.I.T. Cam produces a draw cycle that has no prominent plateau, meaning it spends very little of the draw cycle at peak weight. It also has a valley, which these days may be an unfamiliar term as most bows have little to speak of and actually promote a rock-solid backwall. A valley is a dwell period at the end of the draw cycle where there is some play between near maximum letoff and the draw cycle actually getting more difficult. The F.I.T. Cam has more of that feeling than most, so it will feel a little different to experienced shooters. Either way, it is easy on the shoulders and comfortable to shoot over and over again, which should translate to more practice time and better accuracy and groups.
Impressions
You will not be disappointed with this bow if you are looking for versatility, value or a quiet rig that is smooth-drawing and light on shock and vibration. It obviously isn't a burner when it comes to arrow speed, but that isn't this bow's intended purpose. In its category, the Hype DTX will be hard to beat.
The post Bow Review: Mission Hype DTX appeared first on Petersen's Bowhunting.
The article was originally seen at http://www.bowhuntingmag.com/bow-reviews/bow-reviews-mission-hype-dtx/?utm_source=rss&utm_medium=rss&utm_campaign=bow-reviews-mission-hype-dtx
Originally posted 2018-04-30 15:30:31.