The Latest Trends in Outdoor Clothing and Footwear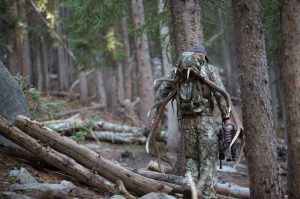 As hunting equipment continues to push the limits of mechanical engineering and physics, so too do the other components critical to a successful hunt. You can see change and progress across the board, from bows and arrows to releases, targets, sights, calls and more. Clothing and footwear have been no different. With a more scientific and educated approach to hunting, these products have developed in stride to keep up with the 2018 hunter.
Take a look at what's new in outdoor clothing and footwear this year.
---
Outdoor Footwear
---
A good pair of boots can make all the difference whether you're in a treestand, hiking up hill, or stalking your prey over miles of plains. Hunters need something that will stand up to the terrain and the elements while keeping their feet comfortable for long, hard hours of work. Here are a few that we think hit the mark.
Irish Setter Ravine
They say it best themselves, "wherever you're going, Ravine boots help you get there." The Ravine boot is built for constant comfort, no matter where you take them. They're light, so you can go faster and maneuver easier. The Ravine is made of waterproof leather and suede and comes in a 7- or 9-inch height. Despite the high rise, their CuShin Comfort tongue relieves pressure some feel on their shin from the top of the boot tongue. It's made to flex as you walk, so you're whole foot, ankle and leg are comfortable for hours. The inside lining is made to wick moisture, keeping your feet dry and warm on cold days while also eliminating odor through their ScentBan technology. A dual-density midsole provides top-notch comfort while fighting fatigue by giving the wearer the same rebounding energy boost they'd get from an athletic shoe. For more information, visit irishsetterboots.com.
Rocky Grizzly
The new Grizzly collection from Rocky provides ultimate comfort and durability in a hunting boot. The Grizzly boots are made to be tough so your foot doesn't have to be. They feature a new tri-density outsole for shock absorption and a dual EVA mid-layer for added comfort. Full grain leather and 900-denier nylon uppers provided optimum durability while the rubberized heel provides abrasion resistance. The Grizzly boots are available with 200 or 1,000 grams of 3M Thinsulate insulation. The boot is protected by Rocky VP waterproof protection and comes with a one-year guarantee. For more information, visit rockyboots.com.
Muck Boots Woody
Arctic Ice Extreme Conditions Boot
Sometimes you have to walk through the muck. Everyone needs a gool ol' pair of boots to get them through thick and thin. Muck Boots has the answer for your everyday needs, and they've upped their game with the Woody Arctic Ice Extreme Conditions Boot. This waterproof boot is equipped with a new multidirectional lug design for the outsole called the Vibram Arctic Grip. It's equipped with pods that grip and deliver advanced traction on wet ice. They're built with 8 mm of CR Foam and fleece lining to keep you warm and dry during the most extreme temperatures. For more information, visit muckbootsusa.com.
---
Apparel
---
Hunting apparel needs to be as versatile as hunters themselves. For 2018, better options are available for every scenario and environment. Innovators improved their approach to scent control, weather, concealment, range of motion and everything in between. 
ScentLok Full Season
Taktix Jacket and Pants
ScentLok brings us the Full Season Taktix. The action-ready Taktix system is packed with rich features. Like all ScentLok gear, the Taktix wouldn't be complete without the company's unmatched Carbon Alloy technology for odor adsorption. Meanwhile, NeverWet technology dramatically repels water, mud, blood and other liquids. DuoTone technical overlay panels offer enhanced concealment. For treestand hunters, safety-harness openings allow the Carbon Alloy technology to also control harness odors.
The Taktix pants also feature Carbon Alloy and NeverWet technology. Additionally, they come with a micro-fleece lining for added warmth. The pants have eight pockets to keep essentials close, and the 18-inch leg zippers make them easy to slip over boots. For more information, visit scentlok.com.
Badlands Rev
Jacket and Hunting Pants
Creating durable and functional backpacks has prepped Badlands to make some killer apparel. The Rev is a lightweight, versatile jacket that can be worn in all weather situations. Bio-mapped side panels stretch and contract for maneuverability and temperature regulation. The Teflon Shield+ repels water for a completely wind- and water-proof outer layer.
Built with ultimate comfort in mind, The Rev Hunting Pants are ultra-soft and designed for warm to hot weather. Throw on a base layer, and the Rev becomes a great water-resistant outer layer for walks in the snow. They come with boot zippers, removable suspenders, Silvadur Antimicrobial technology for scent control, and the same Teflon coating as the Rev jacket. For more information, visit badlandspacks.com.
Coming Soon! Rocky Prohunter
Reversible Parka and Bibs
The makers of Grizzly boots recently revealed the Prohunter Reversible Parka and Bib. This cold-weather pair is ideal for flexible hunters who spend time on treestands and in blinds. They are both fully waterproof and feature Venator Camo on one side and Venator Black on the other. The Venator side is great for sitting in the stand, and the reverse will shadow you perfectly in the blind. Both also feature Rocky ScentIQ Atomic technology, which destroys human scent at the microbial level. The parka comes packed with features, including heat-retaining insulation, a removable hood and hand warmer pockets. The bib is also insulated with elastic anti-twist straps, outseam vents and thin profile buckles. The Prohunter Reversible Parka and Bib are expected to be ready for fall 2018. For more information, visit rockyboots.com.
---
Accessories
---
Accessories can be just as important as a well-tuned bow or the perfect clothing. Take a look at a couple things that caught our eye for 2018.
Allen Company Shocker
Turkey Gloves
Shocker Turkey Gloves from the Allen Company could be the last piece of a successful turkey-hunt puzzle. The gloves have a back-of-the-hand pocket to store mouth calls and a convenient spur ruler on the palm. You won't lose your hold with silicon grip on the palms, and you can stay connected with touchscreen finger tips. The extended cuffs keep bugs out, and the lightweight, breathable fabric—available in Mossy Oak Obsession—keeps hands from getting too hot. For more information, visit byallen.com.
Hunter's Edge Scent
Shoe
Hunter's Edge helps hunters make the most of each step with the Scent Shoe. It's an odorless thermal plastic material that stretches perfectly over all types of boots and shoes. The tread design grips in all types of terrain. The wearer's body weight transfers applied scent from the pad to the ground with each step, dispersing 10 times more scent than a drag rag. For more information, visit hunters-edge.com.
The post The Latest Trends in Outdoor Clothing and Footwear appeared first on Archery Gear, News, and Videos.
The article was originally seen at http://insidearchery.com/outdoorclothingandfootware/
Originally posted 2018-05-15 12:34:11.