The Best Rain Jackets of 2018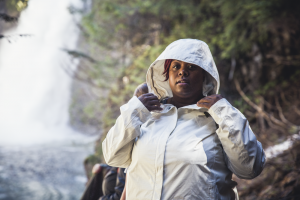 It's hard to live a life outside without encountering rain. That's why a good rain jacket (or two) is an important part of every outdoorsperson's closet. To pick the right jacket you'll want to make sure it is seam sealed with a waterproof and breathable fabric,and a quality hood. But the rest is up to you. Learn more about how to choose rain gear and different types of rain jackets.
To bring you the best rain jackets of 2018, we looked to our customers. Each jacket below is top rated by verified purchasers. That means your fellow outdoorspeople actually wore these jackets through days of downpours and came back to tell us just how they performed.
The North Face Venture 2: Best All-Around Multisport – Women's
The North Face Apex Flex GTX: Best All-Around Multisport – Men's
Marmot Precip: Best Lightweight – Women's
Outdoor Research Helium II: Best Lightweight – Men's
Arc'teryx Beta AR: Best for Downpours – Women's
Arc'teryx Alpha SV: Best for Downpours – Men's
The North Face Resolve Plus: Best Under $100 – Women's
The North Face Venture 2: Best Under $100 – Men's
Buying Tips and Advice
The North Face Venture 2 Rain Jacket – Women's
Best All-Around Multisport
Waterproofing: 2.5-layer DryVent waterproof breathable laminate
Weight: 10.6 oz.
Ventilation: Pit zips
Self-packing: Yes
MSRP: $119.00
If you want to stay protected from the water and wind in nearly any situation, this is the jacket for you. The 2.5-layer DryVent shell protects you from the weather while the cuff tabs and hem cinch-cord seal out nasty drafts. The whole jacket stows into its own hand pocket, making it a no-brainer to bring along on any adventure. Customers say the fit allows enough room to add a fleece or down jacket underneath for extra warmth in cooler weather.
"This is the best raincoat I've ever purchased. I keep one in my office and one at my family's ranch, where I wear it almost weekly in an outdoor setting. The pit zippers are a huge plus because they let air flow around your core while still keeping you nice and dry. My favorite part is the adjustable point on the top of the hood; I have it set perfectly so the rain doesn't get in my face, but the hood isn't falling over my eyes." Anonymous
"And thank you for making plus sizes, North Face. Plus sizes don't have to be boring, ugly or matronly!" Ann M.
The North Face Apex Flex GTX Rain Jacket – Men's
Best All-Around Multisport
Waterproofing: 3-layer GORE-TEX® waterproof breathable laminate
Weight: 1 lb. 8 oz.
Ventilation: Pit zips
Self-packing: No
MSRP: $229.00
Customers love the fit of this jacket—not too tight or too loose—with sleeves that are actually long enough. The 3-layer GORE-TEX membrane is waterproof, windproof and breathable for skiing, hiking or simply walking around town. The adjustable cuff tabs and hem cinch-cord seal out the cold and wet. And, best yet, the soft woven face and knit backer provide comfort and warmth.
"This is an amazing product, have been looking for a fully waterproof rain jacket for several years—the problem has always been that such raincoats are not breathable, until now! This is a great product—breathable and comfortable lining on interior, lightweight, but still fully waterproof with hood and stylish. I didn't know it was possible to have all these together." Scooters Weatherman
"Pit zips are a great feature as it allowed me to dump excess heat with ease and still stay dry as a bone!" Jbryne
Marmot PreCip Rain Jacket – Women's
Best Lightweight
Waterproofing: 2.5-layer PreCip NanoPro

waterproof breathable laminate
Weight: 11.4 oz.
Ventilation: Pit zips
Self-packing: Yes
MSRP: $100.00
This jacket's NanoPro fabric is 43 percent more breathable than previous PreCip technology, making it light and airy for high-intensity activities like hiking, backpacking or running. The Dry Touch finish next to your skin means you won't have that gross clammy feeling when wearing the jacket without a long-sleeve layer underneath. And best yet for a lightweight jacket? The pit zips allow incredible ventilation—this is special because most lightweight jackets leave out the zips for weight savings. Finally, the jacket stuffs into one pocket, so you can throw it into your bag and forget about it, until the rain starts falling, of course.
"I have used this thing in DOWNPOURS in New Zealand and India and it has kept me dry. Definitely one of my favorite pieces of clothing gear! I will be taking this piece on the thru hike of the PCT this season!" Clover
"Not only keeps the rain out, but also works as a great wind block! Hiking the Collegiate Mountain trails in the fall, this jacket kept me dry (snow, hail, sleet and rain) and warmer (wind gusts of 25-50 mph). The jacket packs down small but delivers large." serendipity
Outdoor Research Helium II Rain Jacket – Men's
Best Lightweight
Waterproofing: 2.5-layer Pertex waterproof breathable laminate
Weight: 6.4 oz.
Ventilation: None
Self-packing: Yes
MSRP: $159.00
Unbelievably light, this waterproof jacket is what you need when heading out into unpredictable weather while hiking, backpacking, climbing or trail running. Details like the adjustable hood, interior stormflap, drawcord hem and elastic cuffs help seal out wicked weather. The zip chest pocket doubles as a stuff sack so you can pack and go. Pro tip from customer reviews? Buy one size up.
"This jacket does exactly what it was designed to do: Keeps you dry during those unexpected downpours, packs down incredibly small and weighs next to nothing. This jacket packs up quickly inside its stow pocket to about the size of a baseball—I have found the pocket is big enough to hold the jacket as well as a small snack and still be compact and light enough to forget about while clipped to my harness or tucked away in my backpack top pocket." pegoodman
"This is my go-to multi-pitch emergency layer. Jacket packs up small enough to hang from my harness while climbing, and does a great job blocking wind and rain, which inevitably comes out of nowhere on multi-pitch climbs." BD Harris
Arc'teryx Beta AR Jacket – Women's
Best for Downpours 
Waterproofing: GORE-TEX Pro waterproof breathable laminate
Weight: 13.8 oz.
Ventilation: Pit zips
Self-packing: No
MSRP: $575.00
Mountaineers, backcountry skiers, climbers and hikers, this jacket is made for you. Windproof, waterproof and breathable GORE-TEX Pro combined with fully-taped seams creates a lightweight, durable barrier against rain and snow. Laminated pit zips seal out rain and let out sweat. Two hand pockets and an internal laminated pocket mean that you have plenty of actually-usable pockets. Your reviews prove its ability to withstand days of downpour.
"This is by far the most efficient winter jacket I have owned! This jacket is very light, considering it's a winter shell, and it's entirely waterproof and breathable. As a ski instructor, I worked more days in the rain this season than snow and this was the jacket I wished was our uniform! The hood is versatile and can be worn with a helmet, or adjusted to fit just over your head. The pit zips were my favorite feature this winter with such mild to unnaturally hot winter conditions. Also, the wrists are easily adjustable when wearing gloves, which is convenient. Whether it's winter backpacking or shredding down major ski terrain, this is the jacket I will always take with me!" JoNoMercy
"I was hesitant to spend this kind of money on a shell but have had a hard time finding something suitable for long challenging tours with varying weather conditions. This jacket solved my problem. It is incredibly breathable, surprisingly warm even without additional layers, durable, packable and has held up in every condition I have managed to throw at it. It was totally worth every penny." Sheaja
Arc'teryx Alpha SV Jacket – Men's
Best for Downpours 
Waterproofing: 3-layer N100p-X GORE-TEX Pro waterproof breathable laminate
Weight: 1 lb. 1.3 oz.
Ventilation: Pit zips
Self-packing: No
MSRP: $749.00
Durable and waterproof, this jacket is what you need for tough weather and tougher activities. It's made for mountaineering, backcountry skiing, climbing and hiking. The do-everything 3-layer fabric protects against abrasions, rain, snow, sleet and wind. You can easily adjust the helmet-compatible StormHood

while wearing gloves or mittens, and the six included pockets ensure your items stay dry and secure.
"I wanted the most durable shell and went with the Alpha SV for that reason. Compared to the Beta AR, the SV is slightly thicker and more durable, but the trade-off is that the material is noisier than the thinner Beta AR. With that said, I love the thickness of it and I'm pretty sure this thing is indestructible." Eric E
"If you have never had a jacket of this quality you should know that water just sheds off even in the heaviest of downpours. The pocket layout is perfect when wearing a pack. It's held up to the abuse from hiking well over 100 miles in the southern Arizona mountains through cacti and rough brush without showing wear." Tigger
The North Face Resolve Plus Rain Jacket – Women's
Best Under $100
Waterproofing: 2-layer DryVent waterproof breathable fabric
Weight: 13.4 oz.
Ventilation: None
Self-packing: No
MSRP: $99.00
Considered a true multisport piece, this jacket can hang in town, while being technical enough to keep up on all of your outdoor adventures. We love the details, like the stowaway hood and media-compatible, secure-zip hand pockets. The relaxed fit offers plenty of space for layering, so it can take you from freezing winter days to spring showers with no problem. And, at under $100, it's an easy choice.
"When the weather becomes a bit cooler, I wear this jacket almost every day. I've had it for about a year now and it still looks literally brand new (so that's a plus). Not only do I wear this jacket on a daily basis, but it serves as a great outer layer for when I go snowboarding on warmer(ish) days. If I wear an undershirt and a polar fleece, with this jacket on top, it's perfect, as it will retain some heat, keep out the snow, and is wind and waterproof. I sized up (to a medium, as I normally would wear a small) because I just thought that with the material that it is, a looser fitting garment would be more comfortable." Anonymous
"I find it keeps me surprisingly warm for being so thin, but it doesn't seal in the heat when I'm sweating. The hood is awesome because it covers my glasses and the length is perfect. I love that the pockets have zippers and that the hood can be stowed away (though, in PNW winter/spring, that may not be necessary for awhile). Overall, I'm in love." Oysters & Glasses
The North Face Venture 2 Rain Jacket – Men's
Best Under $100
Waterproofing: 2.5-layer DryVent  waterproof breathable laminate
Weight: 11.6 oz.
Ventilation: Pit zips
Self-packing: Yes
MSRP: $99.00
This jacket was made for multisport adventure with a price tag that you'll love. The 2.5-layer shell protects you from the weather while the pit zips allow any sweat to escape. The jacket packs up small too: the whole thing stows into a hand pocket. Customers rave about the fit, comfort and weather-resistance of this lightweight jacket.
"My adventure took me to Mount Whitney October 3 2017. Expected cold weather and wind for the hike. Paired this up with a good base layer. Temp was 32°F when starting the trail with a slight breeze. Jacket handled that breeze with no issue and remained comfortable while moving. As the hike progressed temps continued to drop and wind picked up. We reached the trail crest where winds were sustained at 30-40mph. Jacket breathed wonderfully not feeling swampy. With the winds high and temps now sub 30s the jacket deflected most of the wind chill to my amazement. I felt cool but still comfortable. The jacket was able to maintain a comfortable temp while not getting hot when pushing hard up the trail or too cold when the wind was blowing the cold air. Very impressed. Feel like a great value for this jacket." William
"I always carry one with me meanwhile commuting in the city and whenever I go camping, hiking or mountain biking and even sailing a couple of times. I live in Costa Rica and it is the perfect all rounder jacket for the tropics because it [keeps] you warm but it's breathable. I have used it while traveling to colder places and used it as the outside layer and it has been much better than using a coat." Willy P.
Shop All Women's Rain Jackets
Shop All Men's Rain Jackets
Types of Rain Jackets and Buying Advice
Not all rain jackets are created equal, and the one that's best for you depends on how you plan to use it. Here are few tips that can help make sure you end up with the rain jacket that will keep you dry wherever you're headed.
Waterproof vs. water-resistant
Waterproof jackets can stand up to seriously bad weather whereas water-resistant jackets can handle light rain for a brief amount of time. Waterproof/breathable jackets stop rain from getting through the jacket while still allowing sweat to escape, and are best for high-aerobic activities. Waterproof/nonbreathable jackets simply keep the rain off your skin, and are good for sitting and standing in the rain but not for high-impact activities.
Hard shell vs. soft shell
A hard shell is a waterproof/breathable jacket without insulation whereas a soft shell features an insulating layer plus a water-resistant shell. Hard shells are great for downpours. Soft shells are best for high-exertion activities where warmth is important.
Rainwear layers
There are three types of layers in rainwear: 2-layer, 2.5-layer and 3-layer designs. 2-layer jackets are made up of a coating applied inside an outer fabric layer, plus a liner to protect that coating. These are best for urban or travel rainwear and offer the quietest option. 2.5-layer jackets are made of a durable outer fabric, a polyurethane laminate or coating inside and a protective sheen or print over that laminate or coating. These jackets are lighter and more affordable than 3-layer jackets. 3-layer jackets are the most durable and breathable, ideal for harsh backcountry environments. They are made by sandwiching a membrane between a rugged face fabric and a liner.
Key features
Choosing the right features is an important part of choosing your jacket.
Seam taping: A true rain jacket must be fully seam taped for it to be waterproof.
Zippers: To keep rain out, zippers require a rubberized coating or a storm flap.
Hood design: Most jackets have brims and adjustments whereas some have zip-off or stow-away hoods.
Vents: Even breathable rainwear can get hot in strenuous activity, so pit zips help keep you cool and dry.
Adjustment features: Jackets often have a drawcord at the bottom hem plus wrist closures that adjust.
Pockets: Decide between hand pockets above the hipbelt, pockets with cord ports and hidden pockets.
Packability: Some jackets have pockets that double as a storage pouch.
The post The Best Rain Jackets of 2018 appeared first on REI Co-op Journal.
The article was originally seen at
Originally posted 2018-04-23 17:49:55.