Maine bald eagles continue amazing recovery from the brink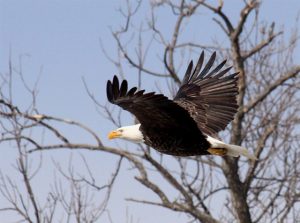 PORTLAND, Maine — Maine wildlife officials are conducting the largest statewide survey of bald eagles in the Pine Tree State in five years.
Maine Department of Inland Fisheries and Wildlife biologists and game warden pilots are conducting the survey of the iconic bird. It nearly disappeared from Maine in the 1970s, when there were only 39 pairs remaining. There were more than 634 nesting pairs in the state in 2013.
Anecdotal evidence suggests the eagles might have improved even more in the last five years, said Susan Gallo, a wildlife biologist with Maine Audubon.
Some defenders of another beloved Maine bird, the common loon, have expressed concern that more eagles could be bad for loons, but that is unlikely, Gallo said. Bald eagles and loons overlap is broad swaths of their range in the U.S. and Canada, and while eagles do prey on loons, the two can coexist, she said.
"They have to keep their eyes on their chicks," Gallo said. "It's certainly not going to be the end of loons because we have a healthy eagle population."
Biologists started counting Maine's nesting eagle pairs from a plane in March. They hope to finish up with aerial survey flights by the end of May, state officials said.
State surveyors are checking on more than 1,800 sites, some of which were used as nests as long ago as the 1960s. Generations of bald eagles can use the same nesting territory over decades, the state wildlife department said.
Biologists want to find out whether the eagle population has increased, slowed or stabilized, the wildlife department said. They will also use the results to "re-evaluate the future needs for monitoring of Maine's breeding eagle population," the department said in a statement.
Bald eagles underwent heavy decline around the country in the early and middle 20th century, when they were harmed by pesticides, habitat loss and hunting. But federal protections followed, and they are now considered one of America's greatest conservation success stories. The bird was removed from the endangered species list in 2007.
The Maine survey project is funded via the U.S. Fish and Wildlife Service Wildlife Restoration Program, which gets the money from an industry excise tax that is paid on hunting equipment.
The post Maine bald eagles continue amazing recovery from the brink appeared first on Outdoornews.
The article was originally seen at http://www.outdoornews.com/2018/05/16/maine-bald-eagles-continue-amazing-recovery-brink/
Originally posted 2018-06-01 09:37:56.