Check out these luxury deer stands
If you are hunting out of luxury deer stands, are you really hunting? 
Deer season is winding down for most of us across the country. We know the real struggle of it, too. Sitting out there through the wind, snow, ice, and all around terrible weather conditions hoping to fill our freezers can be rather daunting. However, there are some that hunt out of luxury deer stands that don't share this pain.
These hunters, the other half, sit on sofas and watch TV while hunting. If it starts to snow, they grab a blanket, turn the heater up, fix another cup of hot chocolate, and cross their legs – all the way – while watching soccer instead of football.
You don't believe me? Check out these five luxury deer stands and see what I mean.
1. Yep. That's the high life. 
And the inside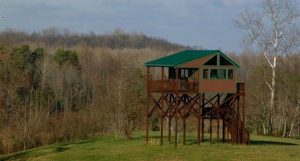 If you have a heater, TV, card table, and slide window with comfy chairs, you ain't hunting like most.
2. Need a little nappy? 
I mean, sometimes you just get tired out there!
3. This struggle is real. 
This deer stand might as well be a hotel.
4. Nice siding.
Hopefully these guys don't have to settle for basic cable.
5. There's always fishing! 
I think these hunters found the water source.
Granted, some hunting lodges pride themselves in their luxury deer stands
Of course I'm kidding about how the other half hunts. If a person works hard, they should play hard also. Maybe one day I'll get to hunt out of something this nice, too.
In the meantime, I'll continue to harness myself against a tree and freeze to death.
The post 5 Luxury Deer Stands That Make Hunting Too Easy appeared first on Wide Open Spaces.
The article was originally seen at http://www.wideopenspaces.com/5-luxury-deer-stands-really-hunting/
Originally posted 2018-06-01 11:42:51.