10 Best Hikes Near Chicago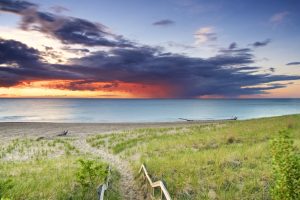 Although the Chicago metro area is a bit limited by geography, a short drive to the outskirts of the city to visit a state park or conservation area or a longer drive across the state line to visit the Indiana Dunes National Lakeshore provides hikers with options. The scenic midwestern landscape and easy-going terrain is perfect for families, beginners or more advanced hikers looking for easy mileage. With convenient access to the shores of Lake Michigan and well-maintained trail systems within an hour to two from downtown, Chicago has several hidden gems you won't want to miss. Get started exploring with these ten top hikes as voted on by the Hiking Project community.
Chicago Lakefront Trail
Location: Downtown Chicago, IL
Length: 18.4-mile point-to-point trail
Difficulty Rating: Easy
Best For: A sightseeing tour of downtown along Lake Michigan
Dogs: Leashed
The paved Lakefront Trail skirts the Lake Michigan shoreline, leading visitors on a walking tour of downtown Chicago. You won't be alone as this popular and conveniently located trail attracts many residents and visitors year-round. Running between the shore of Lake Michigan and Lake Shore Drive, the trail passes through several notable parks with many sightseeing stops along the way. Plan for a long day or several afternoons to fully explore the area.
The Lakefront Trail is more than 18 miles long, and if you are looking for a more manageable section to tackle, the northern 8 miles starting from Grant Park feature many local attractions including DuSable Harbor and Park, Navy Pier, the Museum of Contemporary Art, the Chicago History Museum, North Avenue Beach, the Lincoln Park Zoo and Conservatory, Lincoln Park, Belmont Harbor and Montrose Beach. Along the trail, you can snap a photo of downtown from a scenic viewpoint, enjoy a picnic from a shaded bench or dip your toes in Lake Michigan at one of the public beaches.

The 606 (Bloomingdale Trail)
Location: Downtown Chicago, IL near Walsh Park
Length: 5.7-mile round-trip out-and-back
Difficulty Rating: Easy
Best For: An urban outing with a unique vantage point suitable for the entire family
Dogs: Leashed
The 606, also known as the Bloomingdale Trail, is an unusual trail built on an abandoned train line. This elevated path provides a welcoming green space with interesting city views. The innovative path caters to both walkers and runners with a wide concrete center bordered on both sides by a two-foot-wide blue, rubberized running surface. Reminiscent of the High Line in New York City, the 606 was designed to be an escape from the bustle of urban Chicago. The well-lit path passes through neighborhoods and residential areas, eliminating the hassle of stopping at traffic lights or hiking alongside traffic. The trail's multiple access points and ADA-compliant surface make this an option for families, beginners and those looking for a quick, scenic outing.

Morton Arboretum Loop
Location: Lombard, IL in Morton Arboretum, 26 miles west of Chicago
Length: 4.5-mile round-trip loop
Difficulty Rating: Easy/intermediate
Best For: An enjoyable amble through some spectacular gardens and forests
Dogs: No dogs
Founded in 1922, Morton Arboretum is a testament to Joy Morton's vision to create an outdoor museum of trees. The nearly 100-year-old curated forests and garden-like grounds of the arboretum provide an idyllic setting for this moderate loop hike. From the visitor center, start out on the well-maintained trail around Meadow Lake. Head out along the Main Trail Loop 1 watching for the areas designated for rare plants, honeysuckle, viburnums and magnolia.
Continuing on the Main Trail Loop 2, you will be treated to groves of mature buckeyes, oaks, lindens, maples and beeches. In the fall, this section of the hike reveals a kaleidoscope of autumn colors. The Main Trail Loop 3 and Main Trail Loop 4 make up the eastern half of the hike, passing through the East Woods and by a spruce forest and the Big Rock Visitor Station.
The trail eventually loops back along the Main Trail Loop 1, highlighted by forests of non-native tree species from Korea, China and Japan. You will be tempted to linger here to appreciate the well-manicured grounds and lush setting. Luckily, you can easily find a shaded bench to take a break under the spreading canopies. Be sure to stop by the visitor center after your hike to learn more about the history of the arboretum. Young hikers will enjoy an outing at the Children's Garden located next to the visitor center.

Cuba Marsh Tour
Location: Barrington, IL in Cuba Marsh Forest Preserve, 37 miles northwest of Chicago
Length: 5.5-mile round-trip
Difficulty Rating: Easy/intermediate
Best For: A diverse hike through marsh, prairie, woodland and savanna ecosystems
Dogs: Leashed
A hike at Cuba Marsh Forest Preserve offers a variety of ecosystems to explore in a relatively short distance. Visitors will hike through open prairies, wooded hillsides and a marshy wetland—all on gently rolling paths that are well cared for. The park's wetland is home to a variety of interesting plants and waterfowl. In the prairies and woods, you may spot deer and other birds, and in the spring, flowering trees and bushes add a splash of color to the landscape. The entire family can enjoy the park, as the hike has minimal elevation changes and features a wide, crushed limestone trail surface that's easy to navigate. The hike starts and ends at Citizens Park where you can find amenities like picnic shelters and restrooms.

Hollows Conservation Area
Location: Cary, IL in the Hollows Conservation Area, 48 miles northwest of Chicago
Length: 3.6-mile round-trip loop
Difficulty Rating: Easy/intermediate
Best For: A family-friendly hike with added options for fishing, kayaking, canoeing or camping
Dogs: Leashed
Once the site of a gravel quarry, the 336-acre Hollows Conservation Area is now home to 6 miles of trails, a campground and Lake Atwood. On this loop hike, you will enjoy meandering trails that pass through prairies, wetlands, forests and lake shores. The gently rolling trail alternates between a wide, crushed limestone path and a dirt singletrack that winds through the trees. After passing by the campground, a short 160-foot climb brings you to an overlook of the valley.
Next, you hike along the scenic shores of Lake Atwood on an open and grassy trail. Don't forget to pack your fishing pole as Lake Atwood is stocked annually with bluegill, largemouth bass and rainbow trout. The easily accessible shoreline and a small pier make this an ideal location for kids to try fishing for the first time. The lake is also a popular spot for winter ice fishing. Once you are done exploring the area on foot, you can opt to take a kayak or canoe out for an easy paddle around Lake Atwood.

Starved Rock Loop
Location: Deer Park, IL in the Starved Rock Nature Preserve, 98 miles southwest of Chicago
Length: 5.1-mile round-trip loop
Difficulty Rating: Intermediate
Best For: A year-round adventure in a unique landscape of rock formations, waterfalls and canyons
Dogs: Leashed
A hike at Starved Rock State Park is certain to be a memorable experience. With so much to see, this area is well worth planning a long day trip or weekend excursion around. The park serves up stunning scenery regardless of the time of year with spring wildflowers, summer greenery, autumn foliage and ice-encrusted winter waterfalls.
This loop hike starts with a climb to the park's namesake Starved Rock where you will enjoy panoramic views of the river, dam, island, woods and rolling hills. Continuing on past the viewpoint, you will descend into the carved canyons and pass by the scenic rock formations for which the park is known. Several seasonal waterfalls cascade from the sides of the canyon walls, forming serene pools and small alcoves.
The hike features noticeable elevation gain, with 570 feet of climbing in total, and a few rocky sections where you will want to watch your footing—especially in wet or icy weather. These small challenges add to the hike's backcountry allure. Starved Rock State Park is also home to several bald eagle families, so bring your binoculars as you may spot one of the resident eagles on your hike.

West Beach 3-Loop
Location: Ogden Dunes, IN in the Indiana Dunes National Lakeshore, 38 miles southeast of Chicago
Length: 3.5-mile round-trip loop
Difficulty Rating: Intermediate/difficult
Best For: An exploration of a dune landscape with an unforgettable view of downtown Chicago across Lake Michigan
Dogs: Leashed
This multi-loop hike at West Beach in the Indiana Dunes National Lakeshore combines three loops, which highlight the unique dune landscape and a memorable viewpoint. During your hike, be sure to stay on the designated trails to support the park's ongoing restoration effort and protect the fragile dune environment. Starting your hike on the Dune Succession Trail, you'll learn about the four stages of dune development. This short trail features a tough climb with 250 stairs to reach a sweeping view of Lake Michigan and Chicago from the Dune Succession Overlook.
Take a minute to catch your breath and snap a photo before continuing onto the West Beach Trail. Along this sandy trail, you will see a newly restored oak savanna interspersed with prickly pear cacti. You may also see a variety of waterfowl on Long Lake from the viewing platform on the trail. The last section of the hike continues on the Long Lake Loop Trail. This moderate trail has a small climb at the beginning, which rewards you with a view of Long Lake. The trail then meanders up and down several small dunes before a final steep descent returns you to the parking area.

Trail 9
Location: Chesterton, IN in the Indiana Dunes State Park, 50 miles southeast of Chicago
Length: 3.6-mile round-trip lollipop loop
Difficulty Rating: Intermediate/difficult
Best For: An up-close encounter with a unique dune formation and sunset views over Lake Michigan
Dogs: Leashed
This popular lollipop loop hike follows Trail 9 through mature woodlands to the ridge of a large dune overlooking Lake Michigan. Although the grades are generally easy, the trail surface is very sandy, so the hiking can be slow and a bit challenging in spots. One of the highlights of the hike is Beach House Blowout, a large bowl of sand that has been formed by wind erosion. The trail skirts the edge of the bowl, giving you a firsthand view of the unique topography. Be sure look up from the bowl to admire the expansive views over Lake Michigan and across to the shores of Chicago. Head out for a sunset hike to enjoy the reflection of the setting sun over the lake.

Bullfrog Loop
Location: Willow Springs, IL in Palos Park Woods, 22 miles southwest of Chicago
Length: 7.4-mile round-trip loop
Difficulty Rating: Intermediate/difficult
Best For: A pleasant excursion in the wooded terrain of Palos Park
Dogs: Leashed
This hike tours the forested landscape of Palos Park. With a trail tread that ranges from narrow and rooty singletrack to wider, crushed limestone horse paths, the hike offers enough variety to keep you entertained and plenty of scenery to distract you on the challenging sections. The hike starts off on the Blue Trail North, a rolling trail that heads through large maple groves—in the fall, this section is particularly stunning.
The hike then continues onto the Orange Loop which is one of the core trails in the Palos Park system. You may encounter more traffic here as this multiuse trail is also open to mountain bikers. Although this loop doesn't provide as much solitude as some of the other trails in the park, it still is a pleasant hike, and you may spot wildlife like whitetail deer, raccoons and the occasional coyote. Follow the Orange Loop to the short Green Trail to connect back to the trailhead.

Trail 8-3 Dunes Challenge
Location: Chesterton, IN in Indiana Dunes State Park, 50 miles southeast of Chicago
Length: 2.2-mile round-trip out-and-back
Difficulty Rating: Intermediate/difficult
Best For: A challenge to summit the three tallest dunes in the region
Dogs: Leashed
The 3 Dunes Challenge tackles three of the tallest dunes at Indiana Dunes State Park—Mt. Jackson (176 ft), Mt. Holden (184 feet) and Mt. Tom (192 feet). The out-and-back hike isn't easy, but the reward is well worth the effort. Although the 238 feet of ascent may seem unassuming, don't let the elevation profile fool you. The climbs up and down the dunes are sandy, steep and require a good deal of energy. Be sure to bring plenty of water and pace yourself accordingly. At times, you may need to use your hands to scramble up and down the dunes.
Be sure to pause at the top of each dune to enjoy unobstructed views over the forest canopy. Once on the backside of Mt. Tom—the third and final dune—the trail continues down a set of stairs to a boardwalk before a final descent to the shore of Lake Michigan. Be sure to dip your toes in the lake before heading back the way you came. After the hike, stop by the Dunes Visitor Center on State Route 49 for a free sticker to commemorate your completion of the 3 Dunes Challenge.

The post 10 Best Hikes Near Chicago appeared first on REI Co-op Journal.
The article was originally seen at
Originally posted 2018-06-01 12:17:46.